[White Paper Available Now]
EU REACH In 2019:
Compliance Guide and Regulation Overview
To officially become REACH compliant, your product information must be submitted to the European Chemical Agency (ECHA). What this white paper dives into is the lead up to registration - how to start, optimize and ultimately be successful at EU REACH compliance.
What do we cover?
European Union REACH regulation overview.

Key factors of REACH compliance.

Key definitions within the regulation.

Why does the regulation exist?

What does the compliance process look like?

5 Steps to compliance.

Different approaches to data collection.

Tips on REACH product compliance.

4 Tips that will save you time and effort on supplier engagement, product data analysis, and documentation review.

What roles do different members of the supply chain have in REACH compliance?

Overview of the different responsibilities of manufacturers, Importers, and downstream retailers in regards to REACH compliance.
Compliance Tips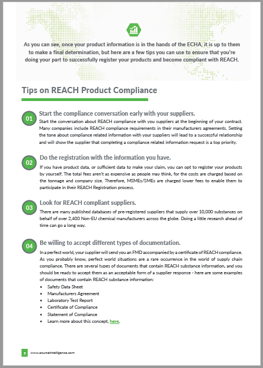 Regulation Overview